Come celebrate and learn about sanctuary with chimp experts, brand new photos, and a chance to double your gift!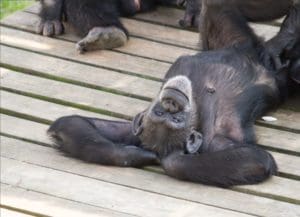 Relaxing in the shade, hands clasped behind her head, eyes sparkling, Lori is the perfect picture of a chimp enjoying sanctuary. See this striking photo and more in the newest edition of Animal Protection of New Mexico's (APNM) magazine "Making Tracks".
Since the Chimpanzee Sanctuary Fund's first round of grants last spring, you believed in our mission and made miracles possible. Today, 44 New Mexico chimps have moved out of lab settings and into the peace and safety of sanctuary with our support. Let's celebrate as we press ahead!
You are invited to join us for a fun and inspiring Chimp Freedom Party at APNM's Santa Fe office. Enjoy libations and our delicious vegan banana split bar, hear New Mexico's own Dr. John Gluck read from his book "Voracious Science & Vulnerable Animals," and meet some of the nation's top professional staff who make sanctuary real for chimpanzees, including Diana Goodrich, Co-Director of Chimpanzee Sanctuary Northwest and Cathy Spraetz, President and CEO of Chimp Haven:
---
Chimp Freedom Party
Saturday, June 17th 11:30am-1:00pm
1111 Paseo de Peralta
Santa Fe, New Mexico
Please RSVP by June 9th to Marisa Sleeter
---
Even if you can't attend, please consider supporting the movement of more chimps to sanctuary by making a gift. Help us meet our goal of raising another $9450 by June 17th and provide support for two more deserving chimpanzees to head to sanctuary.
Donations made to our Chimpanzee Sanctuary Fund will be DOUBLED thanks to generous support from the American Anti-Vivisection Society. Please give now.