Chimps Like Faylene Need Your Voice
Today the National Institutes of Health made the shocking announcement that NONE of the remaining 44 chimpanzees in Alamogordo should get to leave.
This is grim news for chimpanzees like Faylene who never consented to live life inside of a laboratory.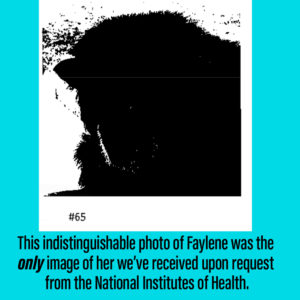 Alamogordo chimpanzee Faylene, now age 36, was featured in the New York Times last year. She endured years of invasive testing, weekly sedations for biopsies and surgeries, use in multiple tests, and more.
Last year, the NIH formed a working group to assess the risks of moving the remaining chimps, including Faylene, from Alamogordo Primate Facility to sanctuary.
Hundreds of you spoke up, requesting the NIH include behaviorists, ethicists, sanctuary and chimpanzee experts to measure the benefits of relocation to a high-quality accredited sanctuary like Chimp Haven, but the NIH did not listen.
Now, a team of three NIH veterinarians have essentially rubber-stamped the decision of the lab to hold back all the surviving Alamogorodo chimpanzees from sanctuary.
The very least Faylene deserves is a higher quality of life, and the decision from the NIH to take that chance away from her is arrogant and unacceptable. Faylene and ALL government-owned and supported chimpanzees deserve a chance to retire to Chimp Haven sanctuary.
The NIH's findings are flawed and heartbreaking. Please take action now on behalf of the remaining Alamogordo chimpanzees.