It's a warm day filled with fragments of joy and sadness.
Last month, we celebrated the arrival of 19 more chimps to Chimp Haven and saw photos of the faces who are now getting to experience sanctuary. Finally, Rosie, Cammy, Elijah – all of these individuals who many have worked for years to protect – are safe forever, what an incredible moment! Plenty of people said this dream was too far out of reach and would never happen, yet here we are.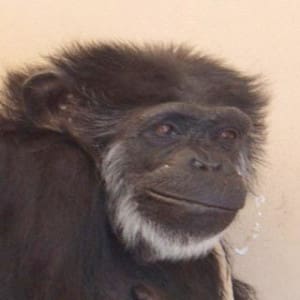 This spring was also when we discovered that Flo, one of the eldest chimps held in a lab setting and one who made a huge impression on everyone she met, is now deceased. Born in the wild, Flo was forcibly taken away from her family and endured life in a circus before being shipped to New Mexico in 1972 for breeding and use in invasive testing.
What Flo suffered at human hands is now in the past. Human grief that she did not get to experience sanctuary can't change what happened.
The future that we can affect, for the remaining hundreds of chimps in the US who are currently in lab settings, is sanctuary. How fast the chimps arrive is up to our human commitment and perseverance.
I keep a picture of Flo to remember her role in the huge changes for chimps in recent years. Her expression in the photo has more than a touch of humor, like maybe she's in on a joke about our weaknesses.
In her memory, we continue the often tedious work of helping move more chimps to sanctuary as quickly and safely as possible, without indulging in too much sadness. Each moment of emotion flows through and tugs back to the tasks of raising more money and preparing for the next grant cycle.
You can help chimps like Flo by making a monthly or one-time gift now:
https://donatenow.networkforgood.org/chimpstosanctuary